The Pyramid Car Parking Shades in Dubai is well known for its practicality and structural design. These Car Parking Shades are one of the most contemporary-looking shades for car parking. They can be used in all types of environments. The Pyramid Car Parking Shades are the ideal match for your commercial center's car park shades, your office buildings, or your shopping mall's car park shades. They also make a great substitute for your garage. You can install the pyramid car parking shades as a single unit or in multiples to make other configurations.
Al Ameera Tents & Shades is the premier supplier of high-quality Shade Suppliers in Abu Dhabi. Our Pyramid Car Parking Shades are made from premium materials, including lightweight aluminum and heavy-duty steel options for the shade structure. Shade fabric is usually made of high-end Poly Vinyl Chloride (or PVC). Many fabric options are available, including PTFE, High-density Polyethylene HDPE and PTFE. These fabrics make our pyramid car parking shades weather-resistant because they have water resistance, UV rays resistance, dust resistance, wear resistance and tear resistance.
Al Ameera Shades & Tents suppliers strive to combine the beauty and practicality of traditional shade options with modern shades. Clients don't have to worry about maintaining their pyramid car parking shades once they have invested. The pyramid car parking shade structures can be easily installed and are very durable. Customers can contact us if to have any questions about the outer pole diameter, pole finishing or fabric material. Our team will be happy to help.
Cantilever car parking Shades
Cantilever car parking shades in UAE use only premium fabrics are used to make these shades. This will ensure that the shades are easy to maintain and last a long time. They can withstand extreme weather conditions like rain, UV rays and strong winds. Our high-tech fabrics provide maximum sun protection while keeping your car cool.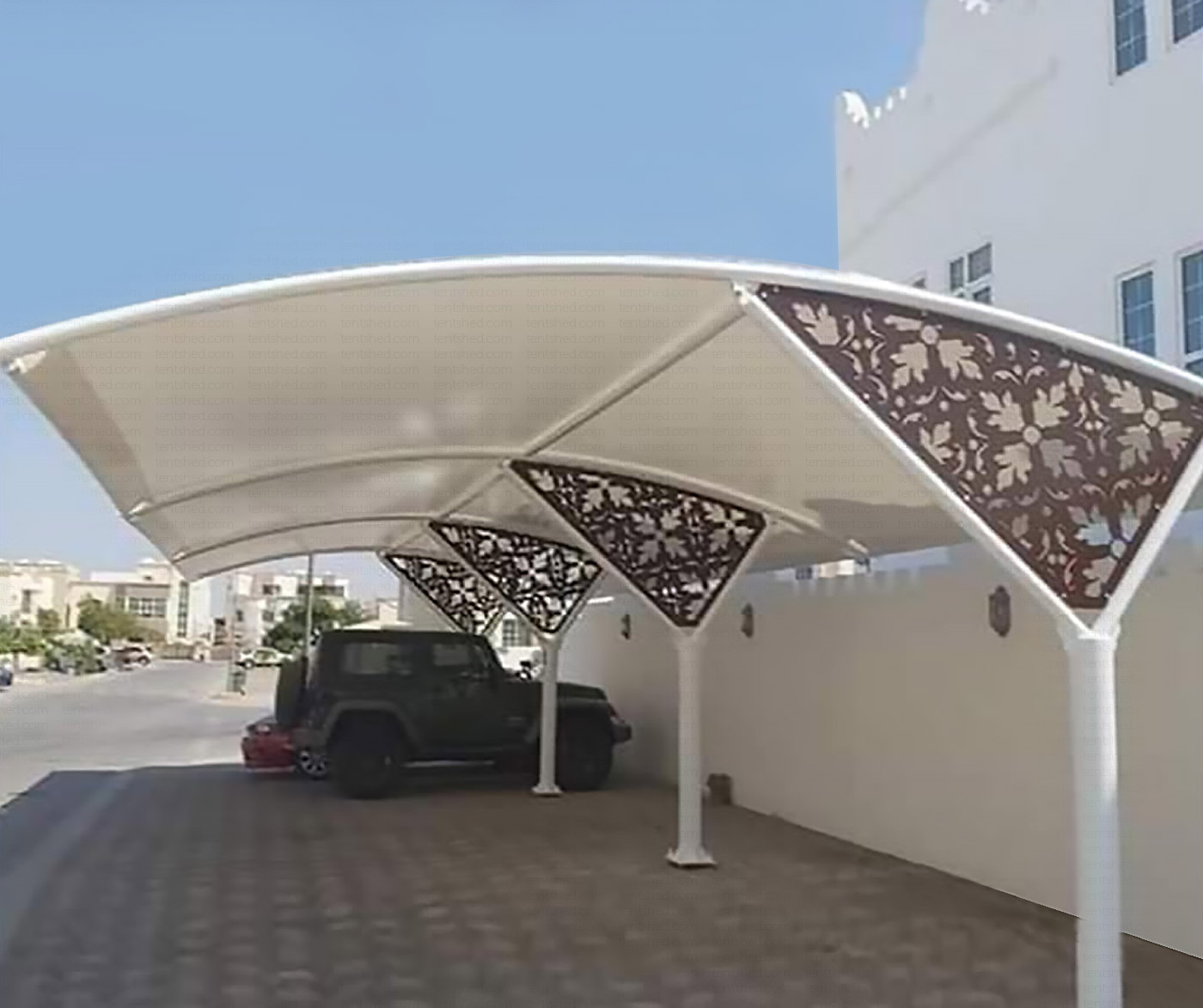 People are increasingly looking for pyramid-shaped car park shades because of their reliability and attractive shape. These shades have supporting beams that reach out across the area to provide shade where it is most needed. These structures' cantilevers are significant for places where shade is not required at the extremes, such as airports, shopping centers, and schools. These carports of pyramid design are suitable for residential areas, parks, and walkways.
Conclusion
Al Ameera Tent and Shades can protect your car from a sandstorm, rain or other weather-related disasters. This durable product offers excellent protection for all kinds of cars, including sports cars and VIPs. High-quality car parking shades provide maximum comfort and protection from the sun. Our company provides the highest quality car parking shades, backed by a warranty. We also offer superior and higher-quality materials. Premium imported materials provide a strong structure and a 5- to 10-year guarantee on the fabric.
Our team of skilled engineers and workers install the car parking shades professionally. We are known for being one of the top car parking shade suppliers in Dubai and Abu Dhabi, Sharjah, UAE. You can install the car parking shades anywhere, commercial or residential. Our engineers are highly skilled and you can book your meeting with them now to request a site visit. We are proud of our work and will ensure your project is completed on time.